Ibiza Cheapest Business Class Fares
To search and book business class flights to Ibiza from the UK, please fill in your travel requirements above and click the search button. The fares we display are found by actual searches made by Just the Flight customers within the last 7 days.
A more traditional celebration in Ibiza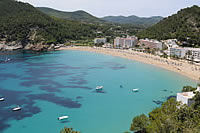 Ibiza's annual Medieval festival turns the clocks back every year with a spectacular three days of events and activities. Taking place in the first week of May, this festival is a welcome antidote to the endless parties that the island is most famous for.
Known as the Eivissa Medieval, the festival commemorates the declaration of Dalt Vila as a World Heritage Site by UNESCO in 1999. Dalt Vila is in Ibiza's Old Town and it is acknowledged as one of the Mediterranean's best preserved acropolises.
The festival attracts over 100,000 visitors every year who throng to its cobbled streets and alleys as the town recreates the Middle Ages. There are numerous concerts and plays to enjoy over the course of the three days and performers on every corner. Be serenaded by troupes of wandering minstrels, watch breath-taking displays of falconry, or admire some of the traditional artisan crafts on display, from leatherwork to goldsmithing.
There are hundreds of stalls lining the streets where you can buy all manner of traditional goods and a vast selection of food and drink reflecting Ibiza's multi-layered history. There are dancers and spice merchants, archery displays and puppet shows, jugglers and sword-fights. All of these contribute towards making the festival a veritable feast for all the senses.
Ibiza's position as the crossing point for multiple cultures means this festival combines European, Catalan and Moorish traditions together into a truly heady mix.