Business Class Flights to Kuala Lumpur (KUL), Malaysia
Book Business Class to Kuala Lumpur
Kuala Lumpur Cheapest Business Class Fares
The cheapest Business Class flight to Kuala Lumpur was £1707 with China Eastern, followed by Royal Jordanian at £1832 and Korean Airlines at £1997. Other airlines with business class fares include Ethiopian Airlines and Turkish Airlines.
To search and book business class flights to Kuala Lumpur from the UK, please fill in your travel requirements above and click the search button. The fares we display are found by actual searches made by Just the Flight customers within the last 7 days.
Kuala Lumpur's Shopping Festival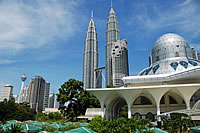 Kuula Lumpur is an important business destination and is the centre of all commercial activity in Malaysia. It is also an important shopping destination, not just for Malaysia but for all of South East Asia as a whole. With its numerous malls and markets, the shopping here is second to none but the Shopping Carnival in October is the place to really snap up the bargains.
Held over a two week period, this annual extravaganza is where nearly all the shops within the city's numerous malls drop their prices substantially. There is a wide variety of goods to choose amongst including branded electronic goods such as cameras, hand-held consoles and computer equipment, clothing and accessories. Many of the goods on sale are duty-free, making them extremely low cost relative to European prices at any time of year but during the Shopping Carnival, prices drop even further still.
Many visitors also enjoy shopping for specialities of the region. Batik and pewter work are two crafts in which Malaysia really excels and there are a good number of speciality shops and market stalls where there is an extremely wide range of beautiful artefacts on offer. Whatever the time of year, vendors will expect haggling Knowing that you have knocked down the price still further makes for a really satisfying shopping experience. Whatever your reason for visiting Kuala Lumpur, grab yourself a bargain while you are there.
Business Class
The cheapest business class flights to Kuala Lumpur our customers have found in the last 7 days
London Heathrow
Kuala Lumpur
£1707

London Heathrow
Kuala Lumpur
£1832

London Heathrow
Kuala Lumpur
£1997

London Heathrow
Kuala Lumpur
£2112

London Gatwick
Kuala Lumpur
£2196