Larnaca Cheapest Business Class Fares
The cheapest Business Class flight to Larnaca was £504 with Austrian Airlines, followed by British Airways at £565 and Ukraine Airlines at £613. Other airlines with business class fares include Lufthansa and airBaltic.
To search and book business class flights to Larnaca from the UK, please fill in your travel requirements above and click the search button. The fares we display are found by actual searches made by Just the Flight customers within the last 7 days.
Plans Are Underway to Develop Larnaca's Waterfront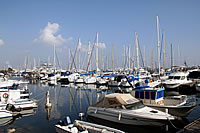 Larnaca waterfront is about to see a major redevelopment take place over the next few years. Cyprus is already a popular tourist destination, seeing particular growth from the UK market, but Larnaca itself is overlooked as the airport town.
To remedy this and to regenerate the town itself, an estimated 80 million Euros are being ploughed into the Marina Development with a view to putting Larnaca firmly on the tourism map in its own right.
Over 15 projects have been earmarked by the Larnaca Tourist Board, formed in 2008. Among them are new cycle paths and walkways on the historic Piale Pasha, a new 18-hole PGA golf course development, the Alethriko Tennis and Sports Centre, and a 300-seater conference venue.
The Tourist Board consists of members from the Chamber of Commerce, the Cyprus Association of Hotels, the Cyprus Tourism Organisation, and the Association of Cyprus Agents. With an eye firmly on increasing tourism, traffic, and commerce to Larnaca, each project has been carefully considered with this in mind by those who know the Larnaca tourist trade. The plan is estimated to take a total of five years.
With this extensive upgrade to Larnaca afoot, it comes as no surprise that incentives are in place to attract more airlines to add Larnaca to their routes. The Hermes incentive scheme aims to reward airlines for incremental passenger traffic increases. With multi million Euro plans in place to enhance the historic town of Larnaca, an increase in both tourism traffic and corporate travel looks like an inevitable and exciting consequence.