Lima Cheapest Business Class Fares
To search and book business class flights to Lima from the UK, please fill in your travel requirements above and click the search button. The fares we display are found by actual searches made by Just the Flight customers within the last 7 days.
Lima Combines Business With a full Cultural Calendar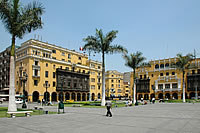 According to a recent survey, entrepreneurs in Lima are optimistic and expect to see their businesses grow in the future. When surveyed 72 percent said that their sales had improved, whilst 47 percent said their purchasing power had increased, and 74 percent thought that the economy was performing well. Lima is seen as an important hub of international business in Latin America and this was underlined by the Madrid based IE business school that holds its global alumni forum in the city each year. Lima is also hoping to attract more tourists to the city with the opening of the House of Peruvian Gastronomy. Food-loving tourists will be able to sample not only many local dishes, but also international dishes at this South American destination.
As the capital city of Peru, Lima has a full calendar of events and festivals, many are of a religious nature, but there are also ballets, concerts and theatrical performances. In mid-April the city hosts the Peruvian Jazz Festival which is organised by the International Jazz Association of Peru. The festival features not only some of the best known Peruvian jazz musicians, but also leading international musicians from around the world.
Visitors to the festival can enjoy a variety of musical offerings from the different strands of jazz that exist around the world. The festival features concerts and workshops and in the past it has featured legendary performers such as the American pianist Kenny Werner and the award-winning Afro-Peruvian Jazz Sextet. There are free outdoor concerts, master classes and competitions.