Gran Canaria Cheapest Business Class Fares
To search and book business class flights to Gran Canaria from the UK, please fill in your travel requirements above and click the search button. The fares we display are found by actual searches made by Just the Flight customers within the last 7 days.
Las Palmas Gran Canaria Eyes Conference Market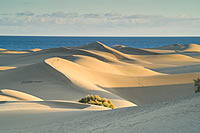 Las Palmas Gran Canaria is the joint capital of the Canary Islands along with Santa Cruz de la Tenerife. Often overlooked in favour of the more tourist-oriented destinations, Las Palmas and its hotels provide an excellent commercial centre for those business interests travelling to the island.
The capital contains enough culture and history to satisfy the most discerning visitor. Its history dates back to the fifteenth century and the city prides itself on its magnificent cathedral, the Columbus Museum, and the Castle de la Luz. With over 200 kilometres of coastline, the popularity of this island is evident.
The advantages of Las Palmas as a conferencing hub begin with the airport. The busy airport, often called Gando Airport by Canarians, is utilised by more than 33 countries over five continents. The airport is between Las Palmas and the popular resorts in the south. The airport is a short haul flight from most parts of Europe, and around four hours from the UK.
The weather remains fine all year with mild winters and hot summers. With a vast body of hotels equipped to accommodate conferences from five to 500 people, Las Palmas is starting to make its presence felt on the European conferencing and convention stage. With a magnificent 18-hole golf course in the centre of the island, Real Club de Golf de Las Palmas, the business picture is complete.
Three London Airports fly direct to Las Palmas: Gatwick, Stansted, and Luton. Flights are also available from regional airports such as Birmingham, Glasgow, Leeds Bradford, Exeter and many more. Such accessibility makes Las Palmas an excellent conference destination.