Business Class Flights to Miami (MIA), USA
Book Business Class to Miami
Miami Cheapest Business Class Fares
The cheapest Business Class flight to Miami was £1985 with Aer Lingus, followed by British Airways at £2166 and American Airlines at £2220. Other airlines with business class fares include Delta and Air France.
To search and book business class flights to Miami from the UK, please fill in your travel requirements above and click the search button. The fares we display are found by actual searches made by Just the Flight customers within the last 7 days.
Catwalk Swimwear in Miami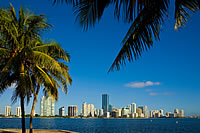 Every year in the month of July, Miami is the chosen destination for the Mercedes-Benz Fashion Week. The sister fashion week to the New York Fashion Week, the Miami shows are unique because they focus on nothing but swimwear. Held at the Raleigh Hotel in South Beach, the show is the biggest and most important swimwear show in the US and possibly even globally, with many designers choosing to launch their brand new collections from this very location. The audience is largely made up of fashion business insiders, journalists and a good sprinkling of celebrity guests but there are a good number of members of the public who come along for the fun of it.
This is the premier show to launch swimwear, with some outrageous costumes and outlandish designs on show but as with any couture show, it is a valuable source of inspiration for the high street and mass market clothing producers. Miami Fashion Week is where you can see swimwear which was never designed to go anywhere near the water or find bikinis designed especially for the bride who is having an underwater wedding ceremony, apparently a growing trend. Although many of the swimsuits are not wearable or indeed affordable for many of us, it is a fun week where everyone seems to enjoy themselves. If your next wedding invitation features an underwater ceremony, this is the place to come for outfit inspiration!
Business Class
The cheapest business class flights to Miami our customers have found in the last 7 days
London Heathrow
Miami
£1985

London Heathrow
Miami
£2166

London Heathrow
Miami
£2220

Edinburgh
Miami
£2656

Edinburgh
Miami
£2668