Malta Cheapest Business Class Fares
The cheapest Business Class flight to Malta was £374 with Lufthansa, followed by Swiss at £379 and Air Malta at £466. Other airlines with business class fares include Austrian Airlines and British Airways.
To search and book business class flights to Malta from the UK, please fill in your travel requirements above and click the search button. The fares we display are found by actual searches made by Just the Flight customers within the last 7 days.
Malta Offers Specialist Services in Business Conferencing.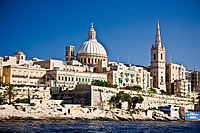 When it comes to the growth industry of international business conferencing, the destination and venue is usually the first decision that needs to be made. With delegates flying from all over the world, a central and accessible location with excellent links is essential and that is where Malta steps in.
Malta declares itself ideal as a gateway between Africa and Europe. With easy links from North Africa and a short haul flight time from all over Europe, Malta has a lot to offer and is promoting its specialist business services to conference and convention organisers worldwide. English is widely spoken and hotel facilities include high-speed internet and excellent telecommunications.
With several major global conferences booked every month of each year, it is easy to see the appeal of this Mediterranean island gem.
With hotels that can hold from 30 to a thousand delegates, an increasing number of sponsors and businesses are starting to take serious notice of Malta's unique position. With a brand new floating conference venue moored in the harbour, that can be static or cruising, new and innovative ideas are being constantly launched. Venues need not be confined to hotels, however, and historic Malta also offers Palazzos, restaurants, castles, towers and forts for a more memorable touch.
Malta International Airport in Luqa recently won the Best Airport 2010 Award from the Airports Council International in the one to five million passengers a year category. This recognition represents a vote of confidence from corporate travel operators as well as passengers themselves.