Business Class Flights to Mauritius (MRU), Mauritius
Book Business Class to Mauritius
Mauritius Cheapest Business Class Fares
The cheapest Business Class flight to Mauritius was £1697 with Lufthansa, followed by British Airways at £3281 and Kenya Airways at £3637. Other airlines with business class fares include Turkish Airlines and Air France.
To search and book business class flights to Mauritius from the UK, please fill in your travel requirements above and click the search button. The fares we display are found by actual searches made by Just the Flight customers within the last 7 days.
Fly Air Mauritius and Visit this Spectacular Island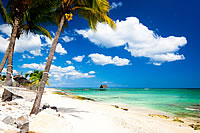 Air Mauritius has worked hard to bring its business class up to international standards and now offers its passengers a truly world-class level of comfort and service. If your ultimate destination is Sydney, Melbourne, Perth or Cape Town a stop-over in Mauritius not only means you will have a chance to explore this unique island but you will fly in complete comfort over the entire route. You are guaranteed to arrive at your ultimate destination feeling really relaxed and totally refreshed.
The airline offers its business class passengers a fast-track through immigration and check in plus a whopping 30 kg limit on checked luggage, which is quite a bit higher than most other carriers. Business class seats are completely lie flat and cocoon style with a 60 inch pitch. They are laid out in a 2-2-2 formation. Coupled with the fact that there are only 24 business class seats on the A330-200, the configuration and design of the seats mean that passengers have the chance to really stretch out and enjoy themselves in this wide-bodied fleet. There is a huge choice of audio and video on demand, with a brilliant choice of 50 digital quality films to choose from. There are also 60 CDs and you can create a play list made up of any number of tracks in the order of your choosing. Each seat is also equipped with inflatable lumbar pouches, a massage facility and retractable privacy panels.
Business Class
The cheapest business class flights to Mauritius our customers have found in the last 7 days
London Heathrow
Mauritius
£1697

London Heathrow
Mauritius
£3281

London Heathrow
Mauritius
£3637

London Heathrow
Mauritius
£3764

London Heathrow
Mauritius
£4159