New York Cheapest Business Class Fares
The cheapest Business Class flight to New York was £1337 with Iberia, followed by Air France at £1462 and KLM at £1464. Other airlines with business class fares include British Airways and Aer Lingus.
To search and book business class flights to New York from the UK, please fill in your travel requirements above and click the search button. The fares we display are found by actual searches made by Just the Flight customers within the last 7 days.
New York's Couture Fashion Week is Open to All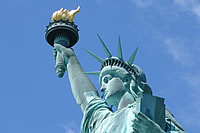 If you have always wanted to experience the glamour of couture fashion shows but are not in the industry or are not a celebrity, meaning a ticket is pretty much out of the question, New York's Couture Fashion Week is the answer to your dreams. Since 2003, Couture Fashion Week has presented a series of fashion shows featuring couture and luxury goods in the elegant surroundings of New York's Waldorf-Astoria Hotel that are wholly accessible to the public.
New York is a fabulous fashion destination at any time of year but to really experience the fashion buzz visit during Fashion Week. This takes place every September. Flying here on BA Club Class or Virgin Upper Class will kick off the whole trip with a sense of total exclusivity from the moment you walk out of your front door and who knows who just might be sitting next to you on the plane?
Couture Fashion Week holds a series of 18 catwalk shows in the Waldorf-Astoria's Grand Ballroom. It holds these together with entertainment from world-class performers, art exhibitions, displays of luxury goods and a full programme of after show parties.
There are a wide range of tickets on offer, from single day general entrance tickets to VIP passes that include front row seats, limo transport service, gourmet meals and backstage passes to meet the models and designers. Life does not get much more glamorous than this.