Business Class Flights to Paris (PAR), France
Book Business Class to Paris
Paris Cheapest Business Class Fares
To search and book business class flights to Paris from the UK, please fill in your travel requirements above and click the search button. The fares we display are found by actual searches made by Just the Flight customers within the last 7 days.
Paris Fashion Week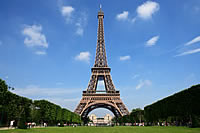 La Samaritaine was once a much loved department store that claimed it sold everything. With an art deco façade and name in large block letters it was one of the most opulent department stores in Paris where customers could buy goods ranging from flowers to candles and from hats to bathing suits, but it closed in 2005. Now it is to undergo a three-year redesign that will cost 450 million euros and transform it into a luxury hotel with adjacent buildings that will house offices, public apartments and shops.
Paris is a popular destination with business travellers and according to recent statistics the numbers travelling to the city are returning to pre-recession levels. This most stylish of cities plays host to the Paris Fashion week twice a year and this is when top designers come to the city to display their latest collections. The Autumn/Winter show tour starts in New York moves through London and Milan and finishes in Paris in March. The Spring/Summer shows start in September in London and finishes in Paris in October.
Tickets can be obtained for the shows that feature different designers and fashion houses. Paris fashion week is not just about the glamorous models, glittering gowns and runway shows it is also about the after parties and entertainment. Many of the fashion houses throw lavish parties in luxury hotels with entertainment ranging from masked balls to performances from international stars such as Kylie Minogue. There are also fashion tours which take visitors behind the scenes at the big fashion houses to meet the people who design the latest fashion trends.