Beijing Cheapest Business Class Fares
The cheapest Business Class flight to Beijing was £1927 with Aeroflot, followed by Lufthansa at £2006 and Etihad at £2113. Other airlines with business class fares include Korean Airlines and Emirates.
To search and book business class flights to Beijing from the UK, please fill in your travel requirements above and click the search button. The fares we display are found by actual searches made by Just the Flight customers within the last 7 days.
Beijing is the Venue for a Brand New Design Festival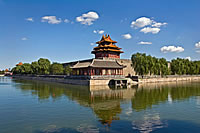 2011 heralded the inaugural event of the Beijing International Design Triennial (BIDT). Hosted by the Chinese Government and a number of respected design and cultural institutions, the BIDT is a wonderful opportunity to embrace and understand China's position as a global design leader.
Held in September and October every three years (the norm in international design shows) the event showcases both local and international designers and their work. Held in the vast space of the China National Museum on the eastern side of the famous Tian'anmen Square, the exhibition venue consists of 6000 square metres of exhibition space over five separate exhibition halls. Both local and international curators are invited to organise each of the five spaces, and have responsibility for selecting the designers and themes of each of the individual halls.
The exhibits are complemented by a series of lectures, debates and discussions on the nature of design and its place in our society and the event seeks to forge greater links between Chinese cultural leaders and leading voices from the international design community in Milan, the US, the UK and other leading design centres across the world.
Whether you are a student of design or simply have an interest in the subject, this event should become a crucial addition to your global design events calendar.