Business Class Flights to Perth (PER), Australia
Book Business Class to Perth
Perth Cheapest Business Class Fares
The cheapest Business Class flight to Perth was £3296 with Air France, followed by Nippon Airways at £3488 and Lufthansa at £3495. Other airlines with business class fares include Qatar Airways and Oman Air.
To search and book business class flights to Perth from the UK, please fill in your travel requirements above and click the search button. The fares we display are found by actual searches made by Just the Flight customers within the last 7 days.
Perth International Arts Festival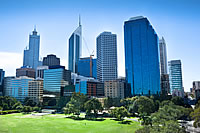 Business travellers who have to travel to Perth on business during the second and third months of the year should make the Perth International Arts Festival part of their itinerary. Taking place at the end of Australia's summer in February and March, the event has a new British artistic director who promises to take the event to new heights. He wishes to bring the events out of the concert halls and theatres and into parks and disused warehouses as well as other unusual venues.
Western Australia's biggest cultural event attracts top notch performers from all over the world from the disciplines of music, dance, drama, film and the written word. Embracing all forms of the arts, this festival engages locals and visitors alike as it brings sparkle and pizazz to this beautiful city. Past performers include internationally renowned Welsh opera singer Bryn Terfel, jazz legend Pat Metheny and violinist Nigel Kennedy. The range of music on offer is simply superb, covering everything from full operas to jazz recitals, on Perth Concert Hall's verandah. There is ballet and modern dance, a plethora of theatrical productions from the traditional to the avant garde and some of the best new films that have made the headlines at the world's top international film festivals. In short, whatever your preferred art form, if Perth is your destination this February, there is sure to be something to delight and inspire you at the Perth International Arts Festival.
Business Class
The cheapest business class flights to Perth our customers have found in the last 7 days
London Heathrow
Perth
£3296

London Heathrow
Perth
£3488

London Heathrow
Perth
£3495

London Gatwick
Perth
£3496

London Heathrow
Perth
£3518