Paphos Cheapest Business Class Fares
To search and book business class flights to Paphos from the UK, please fill in your travel requirements above and click the search button. The fares we display are found by actual searches made by Just the Flight customers within the last 7 days.
The Goddess of Love Celebrates Song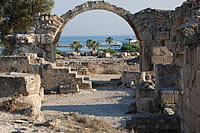 Paphos is the stunning location for Cyprus's Aphrodite Festival which is held in early September every year. This annual music festival, which celebrates the best of opera and music, is a hugely popular event and many visitors return year after year. The festival is held in the city's beautiful Medieval Castle Square, with the Castle itself forming the spectacular backdrop to the stage.
The Aphrodite Festival (so named as Cyprus is claimed as the birthplace of the Greek goddess of love) began over ten years ago to celebrate the island's culture and history. Since its inception, it has gradually become a firm fixture on the international operatic circuit, attracting operatic companies such as the National Opera of Poland, Bolshoi Theatre of Moscow and the National Theatre of Prague to perform some of the best loved operas in this unique setting. Past years have included performances of Georges Bizet's Carmen, Giuseppe Verdi's Aida, Rigoletto and La Traviata, and Jacques Offenbach's Les Contes d'Hoffman.
In addition to the operatic main event, there are numerous smaller events such as individual recitals, ballets and film showings. The festival is also an opportunity to learn more about traditional Cypriot culture and there are a number of events featuring traditional music and dance. All the events are open air, taking advantage of this island's lovely climate.