Rio De Janeiro Cheapest Business Class Fares
The cheapest Business Class flight to Rio De Janeiro was £1615 with KLM, followed by Air France at £1617 and TAP Air Portugal at £1647. Other airlines with business class fares include Alitalia and Lufthansa.
To search and book business class flights to Rio De Janeiro from the UK, please fill in your travel requirements above and click the search button. The fares we display are found by actual searches made by Just the Flight customers within the last 7 days.
Rio's Carnival is the Best in the World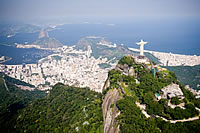 There are carnivals throughout Brazil and many other Catholic countries, but Rio's Carnival is the best and biggest in the world. It is four days of fabulous entertainment which is unmatched by anything else you have ever seen.
Attracting visitors from around the world, this is the party to end all parties. Taking place 40 days before Easter (so, like Easter, the date varies from year to year), it starts on Saturday and ends on Fat Tuesday (Mardi Gras) to mark the start of Lent and the period of abstinence on Ash Wednesday. It is the final act of pleasure before the Lenten days begin, when believers must abstain from bodily pleasures. In Rio, the festival takes place in the city's summer, when days are long, hot and sultry.
It is an opportunity to truly experience and understand the spirit of Brazil and its people. Preparations start months before the carnival, which kicks off with the crowning of King Momo, the fat king, by the city's mayor. Over the four days, there are numerous parades, featuring ever more outlandish costumes, spectacular floats and dancing from dawn right through the night. This is the samba capital of the planet and the hypnotic beat is sure to get even the reluctant dancer up on their feet. The local people's enthusiasm and sheer joie de vivre is truly infectious and will ensure that this is a memory that will stay with you for ever more.