Rome Cheapest Business Class Fares
The cheapest Business Class flight to Rome was £254 with British Airways, followed by Alitalia at £298 and Lufthansa at £337. Other airlines with business class fares include Austrian Airlines and Swiss.
To search and book business class flights to Rome from the UK, please fill in your travel requirements above and click the search button. The fares we display are found by actual searches made by Just the Flight customers within the last 7 days.
The World's Most Magical Film Festival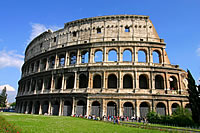 Rome's Tiberina Island is the venue for one of the world's most magical and romantic film events, L'Isola Del Cinema (Cinema Isle). With a programme of blockbusters, retrospectives and art house movies running throughout the summer every year, this visually stunning festival is a cinematic treat, with the added bonus of attracting some of cinema's biggest stars in among its audiences.
Tiberina Island is in a glorious location in the midst of Rome's Tiber River, connected to the mainland by the Ponte Rotto. During the festival, the bridge is lit up by hundreds of tiny lights, luring visitors to the island. Many of the film showings take place under the stars in Tiberina Island's open air cinema known as Sala Visconte, with further showings on the mainland at the CineLab in Trastevere. In recent years, the programme has included retrospectives of cinema's leading directors such as Stanley Kubrick and Alfred Hitchcock, as well as showing new films by Robert Altman and Wong Kar Wei, among others.
This is not simply a film festival however, in addition to the films there are fashion shows, dance and musical performances. There are also bars, cafés and market stalls to while away the time while waiting for your chosen show to begin. One of the highlights is the number of the festival's themed evenings where food and wine are chosen to perfectly compliment the evening's screening , a night out that satiates every sense.