Sharm El Sheikh Cheapest Business Class Fares
To search and book business class flights to Sharm El Sheikh from the UK, please fill in your travel requirements above and click the search button. The fares we display are found by actual searches made by Just the Flight customers within the last 7 days.
Sharm el Sheikh Upgrades Airport to Meet Demand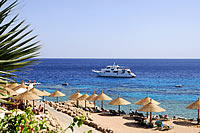 With the recently built Terminal One at Sharm El Sheikh Airport regarded as a success story since its 2007 launch, the airport is now looking forward to the new Terminal Three building that is currently being built.
Formerly Ophira Airport, Sharm el Sheikh Airport serves a resort with a population of only 35,000. However, tourism swells that figure to 7.8 million passengers a year thanks to the new terminal.
First opened in 1968, Sharm el Sheikh Airport is the second busiest airport destination in Egypt after Cairo. Originally an air base for the Israeli army, the airport today bears little relation to its humble origins. With a luxury VIP lounge in Departures and Terminal Three currently scheduled to open in 2012, Sharm el Sheikh Airport is equipped to take on passengers from the 60 airlines that currently use the airport.
From a business point of view, Sharm el Sheikh is ideally placed. Not only do flights fly direct there from the major capitals of Europe such as London, Paris, and Frankfurt, but the airport also has flights to the important Middle East destinations of Jeddah, Kuwait, Amman, and Riyadh.
Hotels in Sharm el Sheikh provide every luxury for the business class traveller. With all the main players on the luxury hotel stage represented here, modern business facilities are widely available, as well as five star conferencing suites. With the new Terminal able to process even more passenger traffic, Sharm el Sheikh is rising to meet the demands of its millions of visitors.