Sydney Cheapest Business Class Fares
The cheapest Business Class flight to Sydney was £2931 with China Airlines, followed by Vietnam Airlines at £3207 and Lufthansa at £3319. Other airlines with business class fares include Japan Airlines and Air India.
To search and book business class flights to Sydney from the UK, please fill in your travel requirements above and click the search button. The fares we display are found by actual searches made by Just the Flight customers within the last 7 days.
Learn from the World's Business Leaders in Sydney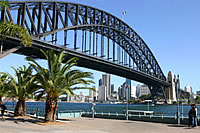 Sydney is the venue for the Australian session of the National Achievers Congress. This is a unique chance to hear from some of the world's most compelling business leaders. Whether you are just starting out in business or are quite well established, this brilliant three day event is sure to inspire and provoke you to action. The speakers are leading global entrepreneurs and business gurus and this extraordinary event also provides unmatched opportunities to network with other business people from around the world.
Held at Sydney's Entertainment Centre in July, the National Achievers Congress features three leading speakers (past speakers have included Donald Trump, Sir Alan Sugar and Sir Richard Branson) together with a number of other speakers who are each experts in their field, from business leaders to gurus in successful thinking and strategy.
At the end of the three days, you will be equipped with the tools for success that can take you to the top of your field. These include strategies on: how to recognise and act on opportunities, how to protect and sustain wealth, understanding the psychological factors behind success and how to influence outcomes so that you can achieve your goals in the time frame you want.
With a number of airlines providing a choice of business class flights including Virgin Upper Class, BA Club Class and Quantas Business, Sydney is an easy destination to reach in ease and comfort.