Business Class Flights to Tampa (TPA), USA
Book Business Class to Tampa
Tampa Cheapest Business Class Fares
To search and book business class flights to Tampa from the UK, please fill in your travel requirements above and click the search button. The fares we display are found by actual searches made by Just the Flight customers within the last 7 days.
Tampa Plays Host to the PGA Tournament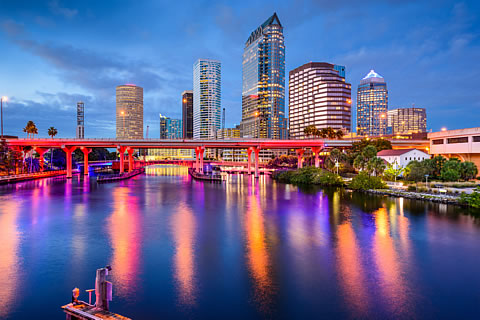 British Airways announced it would be increasing the number of business class flights to Tampa International Airport. British Airways has established a large network of routes at Gatwick and is now the airport's leading long haul carrier. At least one flight departs from the UK to Tampa every day. Tampa airport was recently voted the USA's third best airport by the magazine Conde Nast Traveller, and with British Airways being the only United Kingdom based airline that flies to Tampa, queues for UK visitors are considerably reduced. Business travellers had been demanding more flights to the destination, but it was also good news for tourists as Florida has long been a popular winter sun destination.
Florida plays host to a number of golf tournaments, and with over 1,000 golf courses and outstanding visitor services, Florida's top golf destinations attract visitors from around the world. Tampa has many luxury hotels that offer golf packages. For example the Innisbrook is one of Florida's top golf resorts and has consistently been included in Golf Digest's Top 75 Golf Resorts in the USA. The resort also hosts the annual PGA Tour Championship, widely regarded as one of the most professional sports organisations in the world, and the first major of the LPGA-Legend Tour.
Guests at the hotels have access to world-class golf courses designed by top architects as well as other sporting facilities. The hotels also have excellent dining and business facilities. The PGA Tour stops in the Tampa and Orlando area in March. In addition to the PGA Tampa also welcomes the Champions Tour in spring.