Aberdeen to Amsterdam Cheapest Fares
To search and book flights to Amsterdam, please enter your travel requirements in the search form above, and click the search button.
An open city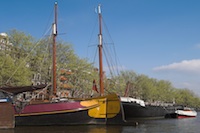 Amsterdam is noted for its open-mindedness and is one of Europe's most cosmopolitan cities. With its criss-crossed with canals, and narrow 17th century houses surround grand, cobble-stoned squares, while the shops and galleries are ideal for leisurely strolls or sightseeing by tram or bicycle.
With flights from Aberdeen to Amsterdam, there is much more to offer travellers. One of the most beautiful ways to see the sights of Amsterdam is via the Canal Hopper. These are open-topped electric boats which offer tours of the canals, the Amstel River, the IJ waterway and the harbour. Groups of four can also take the Canal Bike Tour aboard a pedalo or water bike. These can be rented at the canal bike docks in the city centre, including one at the Anne Frank House.
When tired of sightseeing, why not relax with a concert at the Royal Concertgebouw, the city's premiere classical music venue. Not only does it have its own orchestra but also hosts many visiting performers. Another way to relax is to play or watch a game of chess at Max Euwplein, a busy square with chess pieces one metre high, and the game is played using a board which you walk around, making truely unique memories.
Of course, Amsterdam is noted for its red light district, which is home to thousands of self-employed ladies of the night, all of whom pay tax but if this is not your scene don't let it put you off. Nightlife is vibrant in Amsterdam and you will find a plethora of bars and clubs, dance and experimental theatre to suit all tastes. Young or old, there is something for everyone to be found in Amsterdam.