Belfast Intl to New York Cheapest Fares
To search and book flights to New York, please enter your travel requirements in the search form above, and click the search button.
New York City's Macy's Day Parade is a spectacle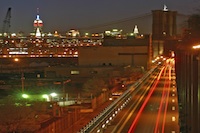 If you happen to be visiting New York City from Belfast in late November, there is a uniquely American spectacle you won't want to miss. The annual Macy's Thanksgiving Day Parade is a highly-touted annual event in New York City that brings the place alive like nothing else.
The day begins early. Holidaymakers will start lining the streets this last Thursday in November at 6:30 in the morning in order to get a good viewing spot. Some will venture to Central Park even earlier to get the best views of the enormous balloons being inflated at the beginning of the parade route. Huge versions of popular characters will float above the New York City streets as spectators from all over the world 'oooh' and 'ahh'.
The Macy's parade is the second oldest Thanksgiving Parade in America and it has been lining the streets of New York since 1924. It's televised throughout America and features various performances by singers and groups as well as the popular balloons. In recent years, celebrities such as Kylie Minogue, Dolly Parton and even the cast of Sesame Street have taken part in the parade.
Once the chaos of the day itself has passed and the pyrotechnics have been let off and the confetti swept away, the real celebration begins with New York City's Christmas shopping season. One of the largest holiday markets in the world is contained in the city that never sleeps, and the parade is just the start of what will undoubtedly prove to be another year of gaudy, raucous chaotic fun.