Birmingham to Bangkok Cheapest Fares
The lowest fare found from Birmingham (BHX) to Bangkok (BKK) was £698 with Singapore Airlines and Business Class was £1955 with Qatar Airways. The fares shown here are the lowest flight prices to Bangkok obtained in actual searches by Just The Flight customers. To search and book flights to Bangkok, please enter your travel requirements in the search form above, and click the search button.
Food Savvy in Bangkok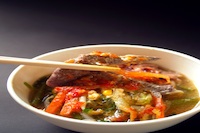 In an age of Internet sharing and social networking, some of the world's greatest street food has been deconstructed and analysed by food groupies. The problem lies in the stripping away of the mystique and excitement that surrounds any culinary dish traditionally associated with an area or region.
Visitors arriving in Bangkok from Birmingham will find that the street stalls and family-run restaurants of the city have survived the intrusive microscope of the Internet. Vibrant spices, skilled grillers, the world's best noodle slingers, and recipes concocted by the Thai Royal Court reign supreme in Bangkok.
Buy from vendors hawking their delectable wares and, if possible, tag along behind a noodle slinger's groupies for some of the best food in Thailand. An influx of immigrants also adds an exciting element of culinary sophistication to local seafood, fresh produce, and hundreds of dishes offered in mom-and-pop restaurants and street stalls.
The Thai culture approaches food as a source of celebration and gathering. Because it is the norm to eat several small meals rather than two or three large ones, Thai dishes are often prepared as finger foods and can be cooked quite quickly. The Thai penchant for cleanliness serves to reassure those who fear eating food from a stall.
What to try? Taco-form shells filled with coconut, grilled eggplant salad with tiny shrimps, charcoal-grilled fish sausages, or unripe mangoes dipped in chilli sauce are among your options. However, the one true test of Thai street hawkers is in the noodles. Look for gooey pad Thai noodles, wide, chewy rice noodles, and slightly sweet, thin egg noodles.