Birmingham to Boston Cheapest Fares
To search and book flights to Boston, please enter your travel requirements in the search form above, and click the search button.
Boston St Patrick's Day rivals Dublin celebrations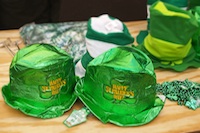 The St Patrick's Day parade that is held annually in South Boston, Massachusetts, has been reported to be the second largest such parade in the United States of America, and with a regular audience of well over half a million, goes a long way to demonstrating how popular the traditional Irish celebrations are in the country.
The city of Boston is certainly one of the places in the USA to show its association with the Irish culture most clearly, and the St Patrick's Day celebrations are just part of this, with the Irish pubs across the city being suitably decorated and serving traditional food and drink.
For those people in the United Kingdom who would like a taste of the American way of celebrating St Patrick's Day and all things Irish, the air route to Boston Logan International Airport from Birmingham International Airport provides a direct link without the need to pass through either London or New York. The direct link provides a convenient way to cross the Atlantic to enjoy the intercontinental Irish celebrations, and the city of Boston and its Irish pubs can provide a warm welcome even when it is not St Patrick's Day.
Travelling to Boston Logan International Airport from Birmingham International Airport is also a great way to discover the sights of the famous city of Boston, including the harbour that was the scene of the Boston Tea Party.