Birmingham to Dusseldorf Cheapest Fares
To search and book flights to Dusseldorf, please enter your travel requirements in the search form above, and click the search button.
Dusseldorf's Transformation.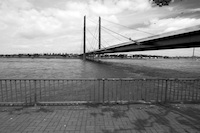 Dusseldorf is perhaps one of the less popular destinations within Germany but with the introduction of flights to Dusseldorf from Birmingham this could all be about to change. This famous city, located on the River Rhine, provides one of the best shopping experiences in Europe along with a carnival to rival some of the finest around the world. The Pope's favourite pastry shop and the world's tallest digital clock are also to be found in Dusseldorf. These are just a handful of the things to see and do in this vastly underrated city.
During the 1980s, Dusseldorf was unfairly portrayed as an industrial and bleak city on the popular TV series Auf Weidersehen Pet and that reputation has stuck somewhat despite the fact that it could not be further from the truth and the series was mostly filmed in Hamburg. It's shopping districts are now ranked above those of Milan, it has the finest promenade on the entire Rhine, and some of the finest beer to be found in the whole of Europe.
Many will find the area of 'new' Dusseldorf to be quite a shock to the system given expectations, but in the rebuilding process architects were given carte blanche to take the derelict port area and turn in to the Media Harbour district. The famous architect Frank Gehry, who was responsible for the Guggenheim Museum in Bibao, created an office block which can only be described as 'fairytale'.
Dusseldorf has come a long way in recent years, now, thanks to these direct flights, it won't seem as if you have to.