Birmingham to Guernsey Cheapest Fares
To search and book flights to Guernsey, please enter your travel requirements in the search form above, and click the search button.
A Novel Approach to Guernsey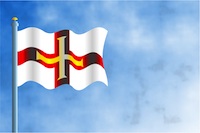 The sleepy, scenic island of Guernsey lies in the far reaches of the English Channel. The inhabitants were overlooked by Winston Churchill and yet found themselves under the beady eye of Adolf Hitler, who would occupy the tiny island with 15,000 German troops between 1940 and 1945. Over 700 bunkers were abandoned by the Germans when the war ended and the bunkers have been put to excellent use from the island's residents as a fish storehouse, a mushroom bed, wine cellars, and even as a rock band rehearsal hall.
The indomitable spirit and intrepid behaviour of the islanders is best captured in the extraordinary novel "The Guernsey Literary and Potato Peel Pie Society" (Dial Press/Random House), written by Mary Ann Shaffer and Annie Barrows. Named one of the best books of 2008, the novel fictionally chronicles the events of the brutal, five-year-long occupation by the Nazis through a series of letters delving into the evacuation of the children and the death of 41 inhabitants.
Readers from all over the world plan to visit the island after reading the novel. In fact, the island now offers Sweet Potato Peel Pie tours. Thrust into the limelight again, natives take it in stride and retain their unassuming airs.
Holiday travellers entering Guernsey from Birmingham can tour the island sites where the events in the book took place. Along the way, they can also explore the natural wonders of the island, spend an afternoon in the pub visiting with locals, and unwind on the tranquil beaches surrounding the island.