Birmingham to Glasgow Cheapest Fares
To search and book flights to Glasgow, please enter your travel requirements in the search form above, and click the search button.
Experience the best that Glasgow has to Offer.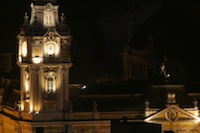 Glasgow is the largest city in Scotland and has a population of around one million. The city's main airport, Glasgow International Airport is just a couple of miles away from the city centre. It is well served with good transport systems, so travellers will not have problems leaving the airport to their destination in the city. Whether travelling using British Airways or Flybe, passengers should prepare themselves for a wonderful and adventurous time during their visit.
Flybe operates seven daily flights to Glasgow from Birmingham that usually takes one hour ten minutes. Flights from Birmingham to the city are available from seven in the morning up to ten in the evening. The city's airport is one of the largest airports in Scotland and handles millions of passengers every year.
The Glasgow Film Festival is one of the busiest events in the country as it showcases some of the best local and international films. This event takes place in February and here visitors get a chance to mingle with renowned local and foreign actors and film producers. The month of June is always full of festivities and celebrations such as West End Festival, and the Govan Fair, which is the oldest festival in the city.
The Celtic Connections is the most extravagant festival in the city. It showcases the very best of Celtic culture and music from various parts of the world. Every year in the last week of June, some of the world's renowned jazz entertainers gather at the Glasgow International Jazz Festival.