Birmingham to Gothenburg Cheapest Fares
To search and book flights to Gothenburg, please enter your travel requirements in the search form above, and click the search button.
Gothenburg is a Popular Destination During Any Season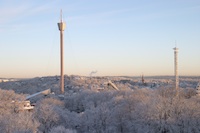 The historic city of Gothenburg is known for its 18th century architecture and its classical music; however, not everyone is aware that one of the leading botanical gardens in Europe is located in this charming Swedish city.
Gothenburg is the second largest city in Sweden, coming in right after Stockholm, and Gothenburg from Birmingham flights depart daily. The city is also a popular destination for tourists looking to take in the Gothic-style architecture and the many other cultural points of interest. One of the leading destinations for visitors is the Gothenburg Botanical Gardens, which has been in existence since 1923 and was created to commemorate the city's 300th anniversary.
Named the Most Beautiful Garden in Sweden, the gardens feature many beautiful flowers and plants across its 175 hectare area. Much of the gardens have been named a nature preserve, and visitors are able to walk about the gardens proper (which encompass about 40 hectares) and take in the visually appealing sight of over 16,000 species of flowers on display.
Amongst the most popular attractions in the gardens are the Rock Gardens, which received three stars in the Guide Michelin, the Rhododendron Valley, the Japanese Glade, and the greenhouses. Amongst the flowers on display are thousands of orchids and a rare Easter Island tree. The gardens feature plants from around the globe, the result of a famous botanist making various research trips around the world to bring back and cultivate the rare plants that are on display in this extraordinary botanical garden.