Birmingham to Hong Kong Cheapest Fares
To search and book flights to Hong Kong, please enter your travel requirements in the search form above, and click the search button.
Hong Kong welcomes the New Year with a bang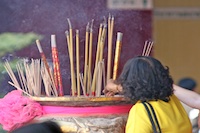 Between January and February, Hong Kong will come alive with this year's Chinese New Year celebration. The wild celebration will include street performers cycling and dancing, and a parade that stretches for miles along the Tsim Sha Tsui waterfront. Over 110,000 spectators will gather to watch the annual event that is held to celebrate the coming of a new year and "welcome spring".
2011 marked the year of the Rabbit in Chinese astrology. 2012 will be the year of the Dragon, and 2013 will be the Year of the Snake, followed by the Horse, Sheep, Monkey, Rooster, Dog and Pig in succession. Each year has its own unique theme and variety of celebrations to honour the featured animal.
The celebration lasts for several days and includes pyrotechnics displays as well as a parade of giant characters. Over 300,000 people will attend the fireworks displays on the day following Chinese New Year, gathering at the waterfront to watch the spectacular pyrotechnics show.
Visitors to Hong Kong from Birmingham can expect a crowd at this year's event, but the world-class entertainment and incredible displays of culture and traditional performances are worth braving the crush. Holidaymakers who arrive early can enjoy some of the city's other entertainments and festivals as well, such as the Hong Kong Well Wishing Festival, which often falls in the same week as the New Year celebration.
Visitors may travel to Lam Tsuen to make their requests at the famous Wishing Trees. A Lanterns Lighting Ceremony will light up the town and although it is less spectacular than the pyrotechnics display, it is no less beautiful.