Bristol to Amsterdam Cheapest Fares
To search and book flights to Amsterdam, please enter your travel requirements in the search form above, and click the search button.
Tulips and Windmills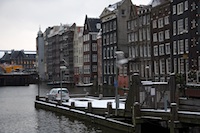 If flowers are your passion, plan a holiday around the tulip-growing greenhouses in the countryside outside of Amsterdam. Frequent flights from Bristol to Amsterdam bring tourists year-round to these spectacular greenhouses where millions of tulips burst into bloom.
Most greenhouses offer guided tours to show their extensive expertise in coaxing these colourful blooms into full flowering at any day of the year. The greenhouses have tulips in every stage of growth from bulbs to flowering plants at any given time.
There are knowledgeable experts to explain the techniques and tools of the trade as well as answer questions from avid gardeners. In fact, expect to receive a gift bag containing tulip bulbs so that these delightful Dutch flowers bloom in English gardens at home.
If you need a little more variety, opt for tours featuring a combination of tulips and windmills through a full-day tour. Spend the morning at the greenhouses, then enjoy typical Dutch culture and cuisine while exploring the windmill city of Zaanse Schans, There holidaymakers can have lunch in the picturesque village and then spend the early afternoon visiting historic and working windmills.
Some the windmills date back to the 16th century and some are still production mills today. Check out the mustard mill called "The Houseman", the oil mills affectionately called "The Ox," The Seeker," and "The Motley Crew." Do not miss the dye mill, "The Cat" or the sawmills "The Young Sheep" and "The Cloverleaf".
The day winds down with a cheese tasting at a local farm or at a waffle house learning the culinary skills of making a Dutch waffle.