Bristol to Frankfurt Cheapest Fares
To search and book flights to Frankfurt, please enter your travel requirements in the search form above, and click the search button.
Frankfurt is a city of rich culture and Heritage.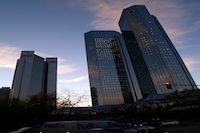 Frankfurt is a modern destination compared to many cities in Germany and has plenty of high rise establishments. It is filled with skyscrapers that stretch from the Rhine basin up to the old town of Altstadt. The city hosts one of the largest and busiest stock exchanges in Europe as well as hosting German and European central banks.
The city's airport is always busy and it is easy to find flight connections to Frankfurt Intl Airport from Bristol. There are more than 44 flights from Bristol, with Lufthansa Airlines operating majority of these flights. Other airlines that operate on this route include KLM, Air France, Alitalia, Eujet, Flybe, SN Brussels, Aer Lingus and Blue 1.
Organised every year, Frankfurt's Museum Embankment festival is one of the popular events in the city. During this festival held in August, several high profile museums hold special events and a combined grand exhibition. The event also features a series of cultural performances, music, stage productions and cabaret.
Frankfurt Jazz Festival takes place every October and features interesting and intriguing top performers. Most of the performances take place at the Kunstlerhaus and Hessicher Rundfunk broadcast Studio.
Other notable festivals held across the city include the Berger Strassenfests, which is a family oriented event that features great food, music and art. The Fressgass Fests involves a two to three week long series of culinary events that takes place in September. Another culinary festival is the OpernPlatz, which takes place in June and besides food you will find great and inspiring music.