Bristol to Guernsey Cheapest Fares
To search and book flights to Guernsey, please enter your travel requirements in the search form above, and click the search button.
A nature lover's paradise!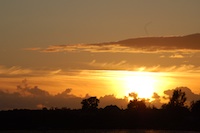 Nature lovers will want to make the island of Guernsey their next destination choice with its spectacular Atlantic Ocean sunsets, abundant botanical gardens and alluring hidden coves. This combination gives visitors a subtropical feel amongst the Channel Islands.
Its close proximity with France has made its mark as local street names, language and culinary choices reflect a French influence. This romantic location is ideal for those wanting to lay back and relax. The island's pretty capital of St Peter Port is the perfect spot for an evening stroll.
Indulge in the island's distinctive paths that are cut out along some of the most scenic areas. Enjoy some of the island's highlights such as clifftop walks along the Water Lanes of Petit Bot and Mouline Huet.
For local attractions, challenge yourself to a day of castle spotting. St Peter's Port is where the magnificent Castle Cornet overlooks the harbour. Near the town of Bouet is where the Ivy Castle stands. At St Sampson is the Vale Castle while the 18th century Fortress Rousse lies along the west coast of the island.
Flying to Guernsey from Bristol is made easy with many flight choices available. This means checking out the annual Guernsey Eisteddfod Society Annual Festival will be a breeze. Started in 1176, this traditional event began over 80 years ago and has blossomed into a full-fledged large-scale folk festival with competitions in drama, music, arts, and poetry. It is, by far, a one-of-a-kind tradition that makes Guernsey stand out.