Bristol to Jersey Cheapest Fares
To search and book flights to Jersey, please enter your travel requirements in the search form above, and click the search button.
Preparations for Battle of Flowers in Jersey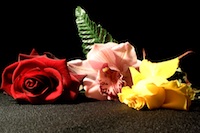 The Channel Island of Jersey, off the coast of France but with a strong English flavour thrown in, is host to two of the most spectacular carnival parades to take place in Europe, and by their nature the preparations have to be started long in advance.
The mid-August parades are an incredible mix of colours and entertainment, based on the theme of flowers, and the parades of floats and array of entertainers combine in both day and night 'battle of flowers' parades, which are sure to entrance locals and visitors alike. As such, the day and night battle of flowers parades have become two of the most popular events in the Channel Islands, and attract crowds from far and wide, making the parades very much international events.
Fortunately for visitors from England, and the south-west of England in particular, there are now even more ways to visit Jersey for the parades, and the air route to Jersey from Bristol is one of those that make sure that it is not only visitors who are travelling from or through a European capital city that can get direct access to the island of Jersey and it's full range of year-round entertainments.
The Channel Island of Jersey is well known for its beauty and uniquely Anglo-French atmosphere, and thousands of visitors each year arrive to enjoy the many pleasures that it has on offer.