Cardiff to Amsterdam Cheapest Fares
The lowest fare found from Cardiff (CWL) to Amsterdam (AMS) was £141 with KLM. The fares shown here are the lowest flight prices to Amsterdam obtained in actual searches by Just The Flight customers. To search and book flights to Amsterdam, please enter your travel requirements in the search form above, and click the search button.
Meet St. Nicholas in Amsterdam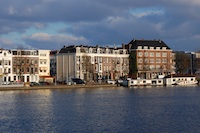 Amsterdam is home to the St. Nicholas Day celebration, which marks the start of the Dutch Christmas season. This event features a visit from St. Nicholas, also known as Sinterklaus in Dutch. This saint is the inspiration for the American Santa Claus. St. Nicholas was an early Christian bishop and martyr who came to be associated with gift-giving.
St. Nicholas Day occurs every year on a Sunday in the middle of November, and is a very joyous event that children especially will appreciate. Attendees to the festivities should expect hundreds of thousands of people to be there, especially since it is easy to travel to Amsterdam from many locations in Europe, including from Cardiff.
The main celebration takes place in the heart of Amsterdam, and starts in the waterfront area. Anticipation builds as St. Nicholas arrives by boat, along with his helpers; he is traditionally believed to be arriving from a location in Spain.
A parade is held which is often attended by as many as 300,000 children. Many local people march in the parade, which has been taking place ever since 1934. The parade is such a major event in the lives of the Dutch that it is nationally televised. The mayor of Amsterdam personally greets St. Nicholas at the end of the parade.
The festivities don't end once the parade is over. The day of the parade marks the start of the Christmas shopping season. In the Netherlands, most families exchange gifts on the 5th of December, the night before the feast of St. Nicholas, instead of the 25th.