Cardiff to Dublin Cheapest Fares
The lowest fare found from Cardiff (CWL) to Dublin (DUB) was £147 with KLM. The fares shown here are the lowest flight prices to Dublin obtained in actual searches by Just The Flight customers. To search and book flights to Dublin, please enter your travel requirements in the search form above, and click the search button.
Dublin's St. Patrick's Day Parade an unmatched spectacle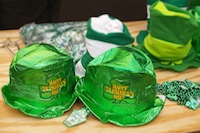 March 17th marks St. Patrick's day, the day everyone wants to be Irish. This year, Dublin's annual week-long celebration will be as enthusiastic as ever. Floats, international bands, bikers and other groups will gather for a wild, week-long celebration.
Travellers to Dublin from Cardiff should plan to book well ahead, as the venues are nearly always packed to overflowing. Pyrotechnics are planned to light up the skies, while some of Europe's brightest street performers take to the pavement to put on a mad show of whirling colours and laughing faces. Concerts will be put on in venues across Dublin all week long. Street theatre, exhibitions and other entertainment will carry on all week, from the day before St. Patrick's Day to several days after.
The pubs will be packed with wall-to-wall holidaymakers, as always during this wild festival. The beer and ale will flow without ceasing, but food might be harder to come by as the celebration wears on, so visitors should come prepared with a healthy traditional breakfast of sausages, bacon and eggs.
The parade itself will be the highlight of the five-day festival, however. With bands coming in from all over the world, the parade will be led by celebrities and political figures, and will carry on throughout the city with floats, performers and dancers, and finishing up with some of the world's finest pyrotechnics.