Edinburgh to Amsterdam Cheapest Fares
The lowest fare found from Edinburgh (EDI) to Amsterdam (AMS) was £99 with KLM. The fares shown here are the lowest flight prices to Amsterdam obtained in actual searches by Just The Flight customers. To search and book flights to Amsterdam, please enter your travel requirements in the search form above, and click the search button.
Amsterdam's Queen's Day is an exciting celebration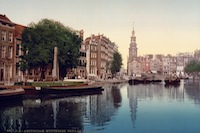 One of the most exciting celebrations in all of Holland is Koninginnedag, translated as Queen's Day, and it is widely celebrated in the capitol city of this historic country.
This national holiday is meant to celebrate the history and culture of the House of Orange is celebrated with a massively popular street carnival that draws thousands, both nationally and internationally. During the celebratory events, the city centre of Amsterdam is packed so full of revellers that it is difficult to move through the streets. Families, youths and people of all ages come together to enjoy the festivities. There is an air of celebration cloaking everything in the city, and the people of Amsterdam go all out by incorporating orange into their clothing and appearance.
The city-wide street market is a an essential stop for anyone looking for a unique shopping experience. Vendors are many and varied, from children selling their toys to professional merchants and craftspeople with unique and hard-to-find items and antiques.
Street music and theatre are also part of the celebrations. The boisterous affair is one of the most exciting in all of Europe and provides something for everyone. Do not forget to enjoy the beers and the cuisine throughout the city during this day-long celebration.
Gay and lesbian celebrations also take place throughout the city in the heart of gay/lesbian neighbourhoods, making this celebration truly one that everyone can enjoy and a celebration of all lifestyles!
Amsterdam has many exciting events like this one throughout the year, with daily flights from Edinburgh.