Edinburgh to Dubai Cheapest Fares
The lowest fare found from Edinburgh (EDI) to Dubai (DXB) was £365 with KLM and the cheapest direct flight was £438 with Emirates. The fares shown here are the lowest flight prices to Dubai obtained in actual searches by Just The Flight customers. To search and book flights to Dubai, please enter your travel requirements in the search form above, and click the search button.
Dubai - A Modern City in the Old World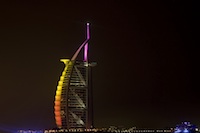 Dubai is one of the seven emirates of the United Arab Emirates. It hosts the largest population after Abu Dhabi, and consists of a rich, business-orientated culture. The city is famous for its architecture, and is home to the tallest building in the world; the Khalifa Tower.
In contrast with the usually traditionally Arab culture of the United Arab Emirates, Dubai is a cosmopolitan, diverse city. Much of the architecture is based on a modern interpretation of Islamic traditional building styles. Dubai's skyscrapers top those anywhere else in the world – some standing over two thirds of a kilometre high! The modern cityscape is certainly something that entices visitors to the city and impresses upon them.
The 'Rose Rayhaan by Rotana', also known as the Rose Tower, is the tallest hotel in existence. This 72 storey-high hotel boasts a panoramic view of Dubai city, and is a family friendly, non-alcoholic hotel. The luxury hotel has a two-floor conference area, as well as a relaxing spa and a 24 hour coffee shop.
Perhaps the most iconic of Dubai's buildings is the Burj Al Arab, the boat-like hotel which rears above the water on a man-made island. This luxurious hotel claims it is '7 star'; that it outstrips all other hotels by two stars. It is situated 15 kilometres from the city centre and 25 kilometres from Dubai's international airport.
Dubai is in an arid, subtropical climate, meaning that the weather is generally hot and humid, with temperatures often rising above 40 degrees centigrade.
Daily flights from Edinburgh to connecting airports take place several times every day. From these connecting airports, Dubai is only a few hours flight.