Edinburgh to Jersey Cheapest Fares
To search and book flights to Jersey, please enter your travel requirements in the search form above, and click the search button.
Natural Beauty: Jersey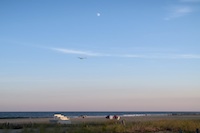 Jersey is the most southerly island of the British Isles, with a temperate climate of warm winters and cool summers. The island is a plateau that slopes gently to long, sandy beaches on the south coast and drops in rugged cliffs to the north.
Guide-led walks will give visitors a taste of the real Jersey. These walks range from beach walks along the shore, visiting the beautiful oceanic coastal region and the fantastic, imposing castle and harbour of the majestic Gorey village, to walks through the quaint fishing villages and historical war bunkers set in place decades ago. A moonlit walk across the beach is an adventure you are not likely to soon forget – with the glittering, luminescent sea to one side, and the sparkling sand to the other, this is a special walk of untold beauty.
With dozens of yearly festivals, Jersey is most certainly a festival island. From music festivals such as Grassroots Music Festival to historical remembrances like the Battle of the Flowers, a festival of colour, music and entertainment, there is something to suit everyone. The annual Jersey Life music festival is fast becoming a world favourite, and the June in Bloom floral festival reveals the floral heart of the island.
An ideal holiday destination, Jersey Island is a mixture of natural beauty and modern wonder; in recent years, the island has changed its economy from the more traditional fishing and agriculture to finance. This has led to a change in the fundamental style of the island, which hosts bustling city life alongside the calm natural back roads.
Flying from Edinburgh to Jersey, one connecting flight is required.