Edinburgh to Manchester Cheapest Fares
To search and book flights to Manchester, please enter your travel requirements in the search form above, and click the search button.
Urban Renewal Attracts Visitors to Manchester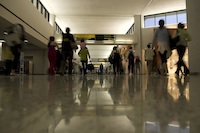 The city of Manchester has long been a holiday destination for travellers from all over the United Kingdom and beyond. However, the recent sprucing up of the city through urban renewal efforts is bringing in even more holidaymakers than before.
Those travelling to Manchester from Edinburgh for the first time, or for a return visit, will find restored landmarks in a clean and modern city. The restoration efforts have brought new life to the city without sacrificing any of the older attractions or historical buildings and the city is going green. It is home to the biggest solar energy project in the United Kingdom, the new County Court is eco-friendly and regeneration is the new keyword of this once mainly industrial city.
A new slogan is in place and "Manchester is My Planet" is evident everywhere in the city. More and more citizens are signing an ecological pledge where everything is recycled and the electricity is renewably generated.
Whole sections of the city have been spruced up, including the Sportscity Stadium, quarters of the Manchester City football team and The Quays, the place archrival Manchester United calls home.
For a sweeping overview of the city, head over to Exchange Square in the heart of the city and go for a ride on the Wheel of Manchester. This massive vertical wheel stands 60 metres tall and each of the 42 capsules holds up to eight people. It provides a panoramic view of the entire city and nearby landmarks such as the Manchester Cathedral.