Edinburgh to Vienna Cheapest Fares
The lowest fare found from Edinburgh (EDI) to Vienna (VIE) was £67 with EasyJet. The fares shown here are the lowest flight prices to Vienna obtained in actual searches by Just The Flight customers. To search and book flights to Vienna, please enter your travel requirements in the search form above, and click the search button.
Vienna: A Feast for the Senses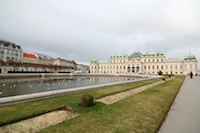 Vienna is a city of old and new; the two merged seamlessly together within the fantastic town.
Historical buildings stand side by side with contemporary artwork. Over one hundred museums await the visiting wanderer, as well as a record breaking twenty seven castles and one hundred and fifty palaces. With such a variety of wonderful edifices, there's something for everyone. Special 'architecture tours' take place throughout the year. Modern designs and world-famous architects have left their mark on Vienna; buildings like the 'Gasometer' are strikingly contemporary additions to the skyline.
The Museums Quarter, an area of Vienna dedicated to galleries and museums, hosts an array of attractive cafes and restaurants as well as the cultural side. Another popular attraction is the giant Ferris wheel built firstly in 1900. It was renovated in 2008, and now stands at the entrance to the Prater Amusement Park.
Where old meets new, Vienna is a metropolitan city with a little something for everyone; culture, entertainment or relaxation. Whether shopping for trinkets and souvenirs in the old town, or doing some serious buying in the more modern and trendy designer shops near the Naschmarkt, it is a city that suits all.
After a hard day sightseeing, taking in the culture and shopping, relax in one of Vienna's globally renown coffeehouses, where pastries and a variety of coffee drinks entice all who enter. The Viennese Concert Cafes combine the rich, subtle taste and aroma of coffee drinks with the beautiful strains of piano music, creating a feast for the senses.
A flight from Edinburgh to Vienna requires one connection