East Midlands Airport to Guernsey Cheapest Fares
To search and book flights to Guernsey, please enter your travel requirements in the search form above, and click the search button.
Gastronomic Guernsey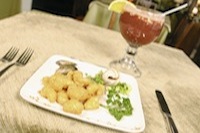 Guernsey is a fabulous destination for a sunny holiday, with beautiful beaches and fine restaurants. Food is at the heart of any trip to Guernsey, as everywhere, from the tiniest beach café to the most formal of dining rooms, can offer a gastronomic feast of fresh seafood and delicious French-influenced cuisine.
Picnics are an especial pleasure on the island, as it is possible to pack a wonderful selection of food from the local shops and enjoy it after a walk along the cliff tops, lazing on a rug with a marvellous view out to sea to whet your appetite. Beachside cafes provide wonderful freshly-caught crab sandwiches or scallops served with bacon and the island offers some of the best fish and chips that can be found anywhere in the world. Travel from East Midlands Airport to Guernsey Airport to sample the menus of L'Auberge de Jerbourg, Pier 17, La Nautique, and La Fregate, brilliant local restaurants that serve food that reflects Guernsey's French past. Guernsey's cream teas and locally brewed cider are also rightfully famous and should not be missed.
Work off the effects of all of Guernsey's wonderful food with bracing walks through the stunning countryside or by learning to surf in one of the beach side surf schools. Cycling, sailing and windsurfing are also popular holiday activities on the island, with plenty of facilities to cater for these sports. A holiday in Guernsey offers a happy mix of relaxation, indulgence and excitement that will be enjoyable for the whole family.