Cheap flights to London (LON) from Guernsey (GCI)
Book flights to London
Guernsey to London Cheapest Fares
The lowest fare found from Guernsey (GCI) to London (LON) was £101 with Aurigny. The fares shown here are the lowest flight prices to London obtained in actual searches by Just The Flight customers. To search and book flights to London, please enter your travel requirements in the search form above, and click the search button.
Extra Flights Just in Time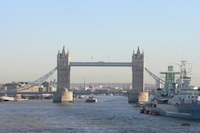 Many people, who frequently have to travel to London from Guernsey, were often torn between cutting their working day short or returning home after their children had gone to bed. They have found that the addition of an extra flight each day by Guernsey airline Aurigny to have revolutionised the way they work. Speaking shortly after the launch of this new daily flight, which will depart at 6pm each evening, Aurigny's commercial director, Malcolm Coupar, was in no doubt that the flight was popular with business travellers for a very good reason. He said, "Being able to have the right work-life balance is very important for many Guernsey business travellers," He continued, "Many will want to have a day's work in the London office but still get home in time to put their children to bed or go to a social event. The introduction of an 1800 departure from Gatwick will make this possible and they will no longer have to choose between a shorter working day or arriving home after the children have gone to sleep."
With the additional news that the airline has no plans to introduce baggage charges for customers, Mr. Coupar admitted that adding such charges could drive customers away. He said "Excess baggage, or in fact baggage full stop, is one of the contentious issues that people have with the low cost carriers. It's undoubtedly a revenue opportunity, but it could alienate our regular customers and I don't think the revenues we'd collect from baggage charges would replace that revenue."