Glasgow to Amsterdam Cheapest Fares
To search and book flights to Amsterdam, please enter your travel requirements in the search form above, and click the search button.
Join April Carnival in Amsterdam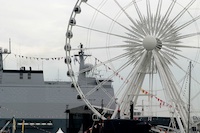 If you're looking to be in Amsterdam in April for a much anticipated national holiday, make sure you stick around until April 30, Amsterdam's Queen's Day, a day to commemorate the country's former queen. The Dutch put on an outdoor party reminiscent of New Orleans Mardi Gras on that day. Queen's Day is Amsterdam's biggest street party, and the carnival day and night welcomes over 700,000 spectators for the single day event.
April 30 celebrates the day when Queen Juliana ascended the throne in 1949, and continued to be celebrated on that day even after Queen Beatrix succeeded her. Queen's Day opens with the renowned and highly popular Free Market event , which lets everyone buy and trade their old goods for new ones, with prices that are only symbolic. During carnival night, the city is full of singers, dancers, open air concerts and a rock concert at Museumplein that goes on all day and night. The Dutch are costumed and colourful, the atmosphere is relaxed and easy-going, and the streets are full of dancing and singing, both traditional Dutch songs and modern music. Dancing boats circle the canals during this night and every nightclub has some kind of special event organized for April 30.
Queen's Day has become so immensely popular, not only among the Dutch themselves, but also among other Europeans. Crowds fly to Amsterdam from all over Europe, including Edinburgh, for a piece of the action on April 30. Plenty of carriers that fly there year round make it easy to get to this destination in time for the celebrations.