Glasgow to London Cheapest Fares
To search and book flights to London, please enter your travel requirements in the search form above, and click the search button.
Notting Hill Carnival in London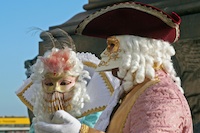 Every August Bank Holiday, the streets of West London are teeming with people celebrating the Notting Hill Carnival. As Europe's largest street festival, the carnival is one of the city's most popular events and draws in massive crowds of participants, and has become more popular each year since its inception in 1964.
Over the course of the carnival weekend, 2.5 million people attend the street fair events that range from live musical performances to parades and cultural exhibitions. Remaining committed to its Caribbean roots, the festival celebrates the unique and diverse culture of the Islands on the streets of London's west side.
The Notting Hill Carnival is an exciting party to which everyone is invited! Live bands and musical performances are highlighted throughout the weekend, with Calypso music wafting through the streets and bringing a vibrancy and party-atmosphere to the city. Fragrant food stalls offer cuisine of all kinds, including those with a Caribbean flair for anyone wishing to taste this exciting cuisine.
Perhaps the most notable part of the event is the parades that wind through the streets of London each year, becoming bigger, brighter, and more colourful each time. Street performers dressed in elaborate costumes and intricate floats add to the exciting atmosphere during the Bank Holiday weekend.
West London comes alive with after-parties once all of the festivities have come to an end and the nightlife extends the excitement of the festivities long into the wee hours of the morning.
The city offers many exciting events for visitors throughout the year with flights to London from Glasgow.