Glasgow to San Francisco Cheapest Fares
To search and book flights to San Francisco, please enter your travel requirements in the search form above, and click the search button.
San Francisco: More than just a Golden Gate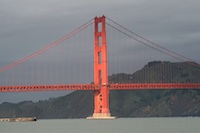 San Francisco is a beautiful city that is known for many things including its hills. It is a perfect destination for those seeking a smaller city environment rather than larger surroundings such as that of New York, but offering the same types of excitement.
San Francisco has several distinct districts to offer its visitors. The hilly harbour areas, the downtown Financial District, and the casually paced Fisherman's Wharf are only a few of the areas to be visited while in San Francisco. In addition to its districts, the most notable icon of the city is the Golden Gate Bridge.
Travellers heading to San Francisco International from Glasgow have many regularly scheduled flights to choose from at great prices. San Francisco is a popular destination for people all over the world, especially for those in the UK. It is very easy to get around San Francisco on foot, and making use of the famous old time trolley cars is a very memorable San Francisco thing to do. The city also has public buses and a light rail system.
The beautiful California weather makes San Francisco an ideal place to visit any time of the year. There are many festivals and events to be found here on a continual basis. The city is famous for its sea lions and, every January, San Francisco pays tribute to the animals with a festival known as Sea Lions Arrival. There is also the Annual Bon Appetite Wine and Spirits Focus that dishes out some of the areas best crab and wines.