Humberside to Amsterdam Cheapest Fares
To search and book flights to Amsterdam, please enter your travel requirements in the search form above, and click the search button.
Amsterdam, City of Amazement and Attractions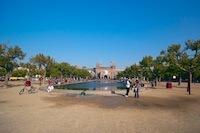 Every year the whole world commemorates the short life of one of Amsterdam's most famous citizens, Anne Frank. Her diary, far from being overwhelmingly sad is full of life and hope
Anne's legacy to her city is her strong spirit of tolerance and understanding and The Anne Frank Foundation is a very forward looking organisation, very much like the city of Amsterdam. Do go and visit the Anne Frank museum
Diamonds, art, canals and the relaxed and laid back attitude of the locals, are just a few other reasons why you should visit the wonderful city. If you want to add a little sparkle to your life, visit the Amsterdam Diamond Centre in the Jodenbuurt area. There are three daily KLM flights to Amsterdam from Humberside and the journey is very short; only around an hour.
Many of Amsterdam's clubs and bars are on the banks of the canals that traverse this city. Could there be anything more pleasant than sitting outside, having a long cool relaxing drink and watching all the activities on the waterside? The biggest club in the city is 'Escape', which can accommodate up to 2,000 people. The club has plans to expand, but for now you can find it on Regulierswarsstraat.
Some of you might prefer to spend time visiting the city's museums and art galleries. If you like Rembrandt, go and visit his house on Jodenbreestraat or if you want to explore one of the greatest art galleries in Europe, there is the Rijksmuseum on Stadthouderskade. Whatever your taste you are sure to find something in Amsterdam