Jersey to Guernsey Cheapest Fares
To search and book flights to Guernsey, please enter your travel requirements in the search form above, and click the search button.
Visit Guernsey's Photography Festival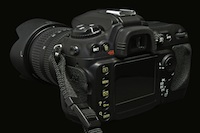 If you are a photographer, or simply interested in photography, you will want to consider attending the Guernsey Photography Festival, which is held in June each year. The festival attracts international photographers, in addition to photographers located in Guernsey and the rest of Britain. Each year has a particular theme, and the photo exhibitions and workshops associated with the festival all follow this theme.
The various exhibitions are hosted at different locations throughout St. Peter Port. Some of the venues used in past years have included the Sunken Gardens, the Market Square, and The Gallery. These locations are easy for travellers who have made the flight from Jersey to Guernsey to find.
The workshops that are offered allow festival attendees to improve their photography skills and learn more about various aspects of photography. These workshops are presented by professional photographers and staff from Guernsey College of Further Education. The workshops are usually free, but reservations may be required due to limited seating.
A competition takes place during the festival, with contestants submitting photographic work that revolves around a particular theme. Entries may be made during the festival and the winners are announced and notified at a later date.
Several special events take place that attendees won't want to miss. One is the opening party on the first day of the festival. This takes place on Market Square, and the entertainment is usually a surprise. There are also talks given by acclaimed photographers during the festival. These talks allow guests to ask the photographers questions and learn more about their work.