London City Airport to Isle Of Man Cheapest Fares
The lowest fare found from London City Airport (LCY) to Isle Of Man (IOM) was £145 with British Airways. The fares shown here are the lowest flight prices to Isle Of Man obtained in actual searches by Just The Flight customers. To search and book flights to Isle Of Man, please enter your travel requirements in the search form above, and click the search button.
Manx National Week is a fun-filled celebration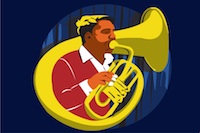 In July, the Isle of Man will observe the annual ceremony of Tynwald Day, a day in which its new laws are proclaimed from Tynwald Hill, in remembrance of Norse tradition from antiquity. Visitors to the Isle of Man from London, however, will find the festivities far more interesting than a dry reading on a remote hill. The traditional ceremony, including a memorial service and a church service at the Chapel of St. John, a procession travels along a rush-strewn path to Tynwald Hill.
After the historic procession takes place, the festivities will begin. Dog agility trials will show off the abilities of some of the local trained animals, much to the delight of natives and visitors alike. The Grand Manx Dance is a magnificent event as well, attracting people from all over the world to watch the splendour of this native performance. The Tynwald Day Music Festival is another popular attraction, with native artists performing everything from folk and jazz to brass bands. At the end of Tynwald Day, the ceremonies will be brought to a close with the traditional Beat the Retreat, including a pipes and drum band putting on a spectacular show on Tynwald Hill itself.
The annual event includes many smaller local celebrations as well. Even the children get involved, helping put on a river race and having poster competitions. The small nation comes alive with festivals, fairs and organised activities during the entire week. In fact, the festivities have become so popular, the entire week has been designated Manx National Week.