London Gatwick to Malaga Cheapest Fares
The lowest fare found from London Gatwick (LGW) to Malaga (AGP) was £74 with EasyJet and Business Class was £274 with British Airways. The fares shown here are the lowest flight prices to Malaga obtained in actual searches by Just The Flight customers. To search and book flights to Malaga, please enter your travel requirements in the search form above, and click the search button.
Feira de Malaga offers activities for the whole family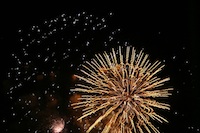 In 1487, Fernando and Isabella rode into Malaga to reclaim the city for Spain from Moorish occupiers. Today, the date is remembered for nine days in late August in a nine-day long fair; Feria de Malaga that attracts holidaymakers from around the world. Travellers from to Malaga from London will be amazed at the variety and enthusiasm of the various entertainments.
The "Pregon de la Feria" begins the festivities with an announcement from a local celebrity. Past announcers have included Antonio Banderos, a Malaga native, and Sandro, a Malaga FC football player. The announcement is followed by a spectacular fireworks display, accompanied by music, and then the party begins.
Dancing, drinking and bullfighting mark the festivities, with wild Andaluz style celebration going on all over the city. Music plays non-stop while the city's famous Plaza de Toros features a bullfighting festival as part of the entertainment. Open-air bars pour out thousands of litres of wine as dancers and musicians take to the streets. The horse-drawn taxis are decorated with colourful ribbons, while the drivers wear traditional costumes. Children's entertainment, like Punch and Judy shows, a small circus and face-painters enthral younger holidaymakers.
After seven in the evening, there's a quieting of the activities until around 9pm when the Feira moves to the Real de la Feira, where over 200 marquis are set up for Feria de Noche. At the outskirts of town, the party continues until the dawn. Shuttle busses and taxies run all night long, offering holidaymakers easy transportation between the Feria de Noche and Malaga town proper.