London Gatwick to Barcelona Cheapest Fares
The lowest fare found from London Gatwick (LGW) to Barcelona (BCN) was £70 with EasyJet. The fares shown here are the lowest flight prices to Barcelona obtained in actual searches by Just The Flight customers. To search and book flights to Barcelona, please enter your travel requirements in the search form above, and click the search button.
A City Port of Beauty: Barcelona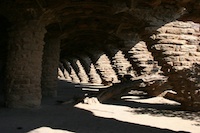 Barcelona, set in the beautiful surroundings of the Mediterranean coast, is one of the Mediterranean's busiest ports. It is a city lively with people, and with good reason.
Rising fantastically from wooded hills, Barcelona is a city of beauty and hard-working inhabitants. Its cosmopolitan air gives rise to an active nightlife. There are hundreds of sights that will keep even the most intrepid explorer busy for weeks. From park life, like Gaudí's Park Güell, to the architecturally stunning La Sagrada Família church, Barcelona is brimming with visual delights. The park is where Gaudí turned to landscaping, and it is a riot of colours and natural and artificial beauty. Built in 1900, the park hosts a series of walks and delightful views – from the plaza to a Hanzel and Gretal-esque entrance. The La Sagrada Família, is not finished after 100 years of construction, though work continues and it may be finished come 2020 or 2040. However, despite this, the church is stunningly awe-inspiring.
Medieval stone mansions are common on the streets of Barcelona, and five of them are taken up by the city's most visited museum, Museu Picasso. The collection within is a fascinating look at Picasso's life; specifically his early life and certain moments in his latter years. Fundació Joan Miró is another artistic museum, this one holding almost 220 of Joan Miró's paintings, 180 of his sculptures and nearly 8000 of his drawings. A fascinating look at the artist as his style and inspiration changed, this museum is a must for any art lovers.
Flights from London Gatwick to Barcelona are daily and frequent.