London Gatwick to Belfast Cheapest Fares
The lowest fare found from London Gatwick (LGW) to Belfast (BFS) was £102 with EasyJet. The fares shown here are the lowest flight prices to Belfast obtained in actual searches by Just The Flight customers. To search and book flights to Belfast, please enter your travel requirements in the search form above, and click the search button.
Belfast - A City of History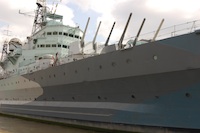 Belfast is a city rich in history and culture. Combine this with a great nightlife and family-friendly activities such as the famous zoo and beautiful botanical gardens and Belfast is the perfect holiday destination.
Though the history of Belfast during 'The Troubles' was one of political and personal strife, it has since been voted one of the safest cities of the United Kingdom to live in, and has been awarded the title of 'the safest city to walk around'. It is a vibrant, lively city which hosts festivals and parades throughout the year. The annual Belfast City Carnival fills the streets of the city with colour and life, as processions, music and dancing takes place. Every June, the streets are filled with people celebrating, and workshops and educational booths line the streets.
The world-famous Titanic cruise ship, which sank on its maiden voyage, started life in Belfast. The Harland and Wolfe docklands now host a gallery dedicated to the giant ship, and the dry dock where Titanic was built gives a sense of the gigantic proportions of the ship. There are various Titanic tours which tourists can take to learn more about the ill-fated ship and her maiden voyage.
For those interested in the history of the tension between Catholics and Protestants and Nationalists and Unionists, there is no place better than Belfast. Bus tours take trips through the most infamous areas – the Falls and Shankhill roads – and explain the history of the strife between the groups.
There are daily flights between London Gatwick and Belfast International Airport.