London Gatwick to Bangkok Cheapest Fares
The lowest fare found from London Gatwick (LGW) to Bangkok (BKK) was £388 with Air China and Business Class was £2014 with Air China. The fares shown here are the lowest flight prices to Bangkok obtained in actual searches by Just The Flight customers. To search and book flights to Bangkok, please enter your travel requirements in the search form above, and click the search button.
Bangkok's Chatuchak Market, the 'City of Angels' weekend jewel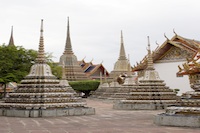 Bangkok is one of the most amazing, electrifying cities in the world. With its unique blend of stunning ancient temples nestling alongside towering skyscrapers with roof-top bars and open terraces, it is a bustling haven of old and new culture, business and fun all rolled into one. No visit to this mesmerizing city is complete without a trip to the renowned Chatuchak Weekend Market, an incredible feast for shoppers looking for originality, entertainment and a chance to indulge in the true Bangkok experience.
With 8,000 stalls spread across 35 acres, there is an initial element of chaos with the fusion of a huge variety of scents, sounds and sights that you find yourself engulfed in. Fear not however, as Chatuchak market has been cleverly designed with colour-coded and numbered sections to help visitors find all of their heart's desires. Whether it's clothes, jewellery, pets (with customized pet accessories), antique furniture, tropical plants or wacky gifts to take home from your visit, there really is something for everyone.
Chatuchak Weekend market also boasts a large variety of open-air food stalls and cool bars catering for everyone, whether you are looking for an organic vegetarian meal, spicy noodle soup, yellow curry or a pint of local Singha beer.
It's advisable to arrive before 10am to beat the crowds and the heat and truly enjoy this unique explosion of culture and consumerism that Bangkok has wrapped up to perfection.
Emirates run flights from London Gatwick to Bangkok with a stopover available in Dubai.